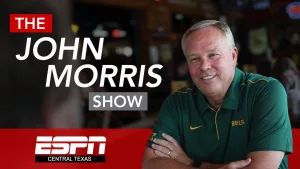 The John Morris Show (2PM-3PM)
John Morris – The "Voice of the Bears"
Recognized by the National Sports Media Association in 2019 as the Texas Co-Sportscaster of the year, the "Voice of the Bears", John Morris is in his 27th year as the signature voice of Baylor Athletics. This is his 35th year overall including eight years (1987 – 1994) working alongside the legendary "Voice of the Bears" Frank Fallon.
Officially, he is Baylor's Assistant Athletic Director for Broadcasting and his duties now include play-by-play for Baylor Football and 2021 National Champion Men's Basketball in addition to third tier television broadcasts on Big 12 Now on ESPN+. Entering the 2021 season, Morris has broadcast 390 consecutive B.U. Football games. Morris has also been behind the mic for Baylor Baseball, Softball, Women's Basketball, Tennis, Soccer, Volleyball, Equestrian, Track & Field and Acrobatics & Tumbling. A December, 1980 Baylor graduate, Morris worked 15-years as TV sports anchor and Sports Director on Waco's CBS affiliate, KWTX-TV before moving to Baylor Athletics full-time. At Homecoming in November, 1999, Morris was named one of Baylor's outstanding young alumni. In November, 2002, he was honored with the Frank Fallon Sportsmanship Award named for his mentor from the Greater Waco Chamber of Commerce.
John Morris is a native of Louisville, Kentucky and graduated with honors from Danville (Ky.) High School in 1977. A proud father of three and grandfather of three, Morris is married to the former Terri Melton, a 1985 Baylor graduate. They are the parents of Meagan (32) a Baylor graduate, Maddie (28) a Baylor Nursing School Graduate, and M.J. (25) a Baylor Mechanical Engineering Graduate. The Morris family is active at Harris Creek Baptist Church.