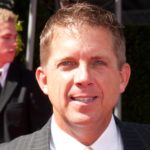 New Orleans Saints' head coach Sean Payton is retiring after 15 years with the organization. Payton informed New Orleans of his decision Tuesday. Payton has three years remaining on his deal with the Saints after signing his latest extension in 2019.
During a press conference, Payton thanked Saints owner Gayle Benson and her late husband, former Saints owner Tom Benson. Payton said he was glad Benson told him to spend some time away from the team for the past couple weeks before he made his decision, "because it is a big decision that affects a lot of people."  Payton also said he doesn't like the word "retirement", and he can't rule out a return to coaching in the future. But "that's not where my heart is right now." He added: "I don't know what's next," which disputes reports that he has talked with TV or media outlets for future endeavors.
Payton has been the Saints head coach since 2006, turning the franchise into one of the NFL's best during his tenure. The 58-year-old Payton went 152–89 in 15 seasons with New Orleans, leading the Saints to the playoffs nine times, and to its first Super Bowl title in the 2009 season with a 31-17 victory over the Indianapolis Colts. In the 2021-22 season, New Orleans finished 9–8, utilizing four different starting quarterbacks as the franchise dealt with a number of injuries and COVID-19 absences.
Payton is the longest-tenured head coach in Saints history, and the franchise's all-time leader in games coached (241), wins (151), playoff games (17) and playoff wins (nine).
Editorial credit: Leon Brezer / Shutterstock.com