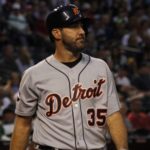 According to MLB Network's Ben Verlander, his brother – pitcher Justin Verlander – is returning to the Astros.  Verlander will sign a one-year deal worth $25 million with a player option for a second year. If Verlander were to opt in for the second year, it would be for another $25 million. Verlander rejected the team's $18.4 qualifying offer earlier Wednesday before signing the new deal.
Verlander, an eight-time All-Star, was rumored to entertain re-joining the Tigers, among other potential free agency destinations. Detroit drafted him in 2004 with the No. 2 pick, and Verlander spent 12 years with the Tigers before he was traded. Since joining Houston in 2017, he's won a World Series, was named to All-MLB first team and earned a second Cy Young Award.
The 38-year-old Verlander missed nearly all of the 2020 season and all of the 2021 season after undergoing Tommy John surgery.
Editorial credit: Keeton Gale / Shutterstock.com